PIBBS MENTOR

Assistant Professor,
Otolaryngology - Head & Neck Surgery
Keck School of Medicine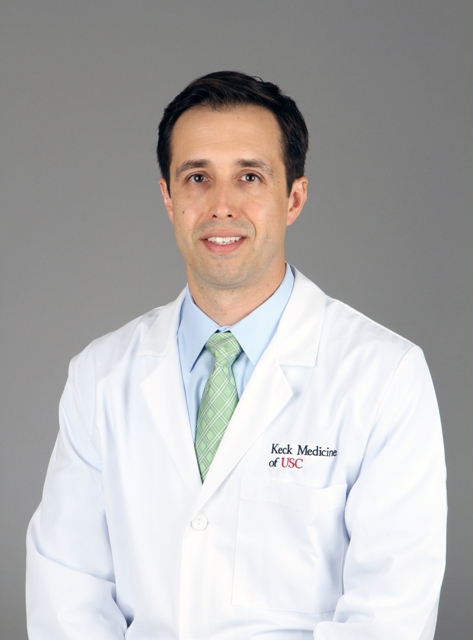 Research Topics
Stem cell derived motor neurons for peripheral nerve regeneration
Research Overview
As a surgeon who treats patients with facial nerve injury, I am well-acquainted with the devastating effects of facial nerve paralysis. Not only does facial paralysis cause emotional and psychological distress, but it has a profound impact on my patient's ability to effectively communicate - both verbally and nonverbally. Following injury to the facial nerve, or any peripheral motor nerve, there are fundamental changes to the nerve and associated muscle that are directly related to a loss of nerve supply. Despite the fact that peripheral motor nerves regenerate, the time required for either motor nerve regeneration or definitive surgical repair is frequently too long to re-establish normal function. Often, the final result is inadequate strength and diminished dexterity in the target muscle, even when a motor nerve regenerates.

In collaboration with Dr. Justin Ichida (Regenerative Medicine and Stem Cell Biology) and under the mentorship of Dr. Jerry Loeb (Biomedical Engineering), I have applied stem cell biology to this problem with promising early results. We have performed successful transplantations of motor neurons derived from human induced pluripotent stem cells into a mouse model of sciatic nerve injury. These induced pluripotent stem cells (IPSCs) are derived from the mature human cells in a skin biopsy, and hold great promise for personalized regenerative medicine.

Another portion of my research applies seeks to generate an engineered nerve graft that is derived entirely from induced pluripotent cell precursors or mature cells that are transdifferentiated into target tissue. Both areas of research have startup grant funding from both internal and external sources.
Overall, the goal of my research is more translational than mechanistic. Although a deep understanding of cellular mechanisms will be critical to durable medical breakthroughs, my lab approaches these problems with a bias towards early clinical application.