Res. Professor; P. I.
Research Medicine, Biochemical & Molecular Biology
Keck School of Medicine of USC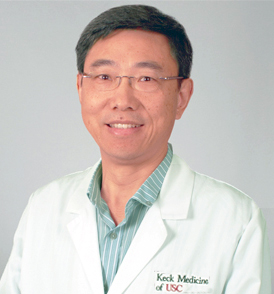 Research Topics
Organelle (ER/Golgi/lysosome) Stress and Liver Diseases;
Hepatotoxicity of Alcohol and Drug Abuse;
Tackling Alcohol Intoxication with Nanotechnology
Research Overview
RECENT PUBLICATIONS: (see all in PubMed/Google Scholar)
(1) Disrupted ER-to-Golgi Trafficking Underlies anti-HIV Drugs/Alcohol Induced Cellular Stress and Hepatic Injury. Hepatology Commun. 2017; DOI 10.1002/hep4.1030.
(2) GRP78 is increased in cirrhotic cardiomyopathy induced by intestinal endotoxin. Int J Clin Exp Pathol 2017;10(2):1549-1557.
(3) Effect of artesunate supplementation on bacterial translocation and dysbiosis of gut microbiota in rats with liver cirrhosis. World J Gastroenterol. 2016; 22(10):2949
(4) Advance & New Concept in Alcohol-Induced Organelle Stress, UPR and Organ Damage. Biomolecules 2015; 5(2):1099.
(5) Effects of Alcohol and Anti-HIV Drugs on Cellular Stress Responses in Primary Liver Cells. Alcohol Clin Exp Res. 2015; 39(1):11.
(6) Enhanced expression of GRP78 correlates with malondialdehyde level. Exp Ther Med. 2015;10(6):2119.
(7) Overexpression of GRP78 promotes cardiomyocyte apoptosis in a rat model of liver cirrhosis. Int J Clin Exp Pathol 2015; 8(8): 9256.
(8) New Insights into the Pathogenesis of Alcohol-Induced ER Stress and Liver Diseases. Int. J. of Hepatology, vol. 2014; 513787.
(9) Critical Role of GRP78 in Pulmonary Microvascular Remodeling. Gene. 2014; 545(1):156.
(10) Expression of GRP78 in hepatopulmonary syndrome. Gene. 2014; 537:115-119.
(11) Enzyme Nanocomplexes as Antidotes for Alcohol Intoxication. Nature Nanotech. 2013; 8:187.
(12) Altered Methylation of ERAD in Alcohol-induced Liver Tumors. Frontiers in Genetics 2013; 4: 224.
(13) ER stress, Cyclin D, ERα variants, and Liver Tumorigenesis. J Gastro. Hepatol. 2013; 28(3):576
(14) Tregs, MMP9/13, TGF-β and acute liver injury. J Mol Cell Biol. 2013; 5(6):369.
(15) Liver-specific loss of BiP/GRP78 perturbs the unfolded protein response and exacerbates a spectrum of liver diseases in mice. Hepatology. 2011;54(1):229-39.
(16) Betaine decreases hyperhomocysteinemia, endoplasmic reticulum stress, and liver injury in alcohol-fed mice. Gastroenterology. 2013;124(5):1488-99.