PIBBS MENTOR

Associate Professor of Immunology
Director of Flow Cytometry Core (MMI)

Department of Molecular Microbiology & Immunology
Keck School of Medicine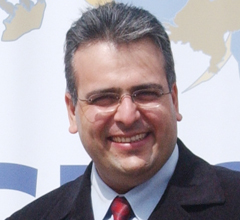 Research Topics
Allergy
Asthma
Autoimmune diseases
T cells
Dendritic cells
Glycolipid reactive T cells
NKT cells
Hybrid Diversity Mouse Panel genetic approaches
Research Overview
Asthma affects 17 million individuals in the United States including 5 million children or according to US Centre for Disease Control 8.2% of the US population in 2009 and is responsible for $50 billion in medical costs. The prevalence of asthma in children has dramatically increased over the last 20 years, which will result in a heightened burden in the future. Asthma represents a profound burden on healthcare provisions estimated to be responsible for 9 million visits to healthcare providers, nearly 2 million emergency room visits and almost half a million hospitalizations. Although many aspects in the development of asthma have now been elucidated the underlying cause is still unclear. This means that current therapeutic options for treatment rely on symptom management by reducing airway inflammation. The standard clinical care for allergic asthma includes bronchodilators and immunosuppressive drugs that usually must be administered indefinitely as their effects are not long lasting, are ineffective in some patients and may actually exacerbate disease severity. Many treatment options exist to manage other allergy symptoms, but targeting the unwanted immune system in patients with asthma has the potential to result in a long lasting cure. Therefore, we believe that manipulation of immunological pathways offers a new therapeutic strategy for patients with allergic asthma and our studies have the potential to lead to novel therapies.

The objective of my laboratory is to: characterize and define acquired and innate immune responses at mucosal surfaces such as lung and gut; investigate the mechanisms underlying the regulation of those responses; explore the mechanisms by which those responses contribute to inflammatory, allergic diseases and asthma; and determine means by which those responses can be specifically manipulated.

My group is pursuing several investigational routes. One seeks to identify the process by which T cells and T cell subsets such as NKT cells induce allergic asthma. A second track targets the role of dendritic cells and antigen presenting cells in the regulation of immune responses. The third group investigates the molecular and cellular basis of regulatory T cell (Tregs) in the lungs, including induced and thymic derived Tregs. Finally, the fourth group studies the genetic basis of lung inflammation and airway diseases using recently developed Hybrid Mouse Diversity Panel.