Associate Professor,
Dept. of Biochemistry & Molecular Biology
Zilkha Neurogenetic Institute
Keck School of Medicine of USC
PIBBS Mentor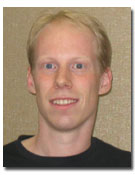 Research Topics
Signal Transduction
Aging and Associated Diseases
Membrane Proteins
Structural Biology
Research Overview
My research program centers on elucidating the molecular mechanism underlying physiological function and pathological dysfunction, respectively, of biological processes at atomic resolution. Specifically, the three-dimensional structure of proteins, their dynamics as well as protein-protein and protein-lipid interactions are determined. As a principal research tool, high-resolution, multidimensional solution-state nuclear magnetic resonance (NMR) spectroscopy is employed. My overarching interest is devoted to the structural biology of proteins that are either membrane embedded or membrane surface-bound.

Specifically, my laboratory focuses on understanding
(1) the structural basis of transmembrane signaling in cell surface receptors,
(2) the mechanism of misfolding of the protein a-synuclein, underlying the pathogenesis of Parkinson's disease, and
(3) the mechanism of carnitine palmitoyltransferase 1 regulation.